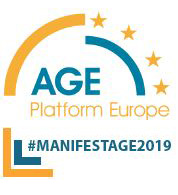 The European Platform AGE is the greatest network of associations of elderly people in the EU and directly represents more than 40 million of elderly people in Europe.
The more than 100 entities throughout Europe that form it have elaborated the manifesto "Reaching equal rights and dignity for the older people" with the aim to influence for the inclusion of programs addressed to ensure the equality and the human rights of the older people in the agenda of the future European Parliament post-elections in May 2019 and the resulting European Commission.
Last October 5th it was presented in Barcelona, with the collaboration of the Barcelona office of the European Parliament and the representation of the European Commission, thanks to the organization and coordination support of EUROLOCAL and Fundación AROA, entities in charge of the creation of a sensibilization format that makes easier the task of the entities in Spain and the access to the information on their rights by the elderly people.
* If you are a local entity or a social entity and want to organize a presentation in your municipality, please contact us via email: manifestage2019@fundacioaroa.org